Welcome New Members:

Elliot Seidler - Civic Brewing Co
106 Municipal Ave, Sopchoppy
Civic Brewing Co.

Grand Opening June 19th


If you have not yet, please take a moment to complete this survey, open until June 30th

The Wakulla County Planning & Community Development Department is updating the Wakulla County Adopted Infrastructure Plan (AIP), and is seeking community input on the County's current and future infrastructure needs. Please take a moment to complete the brief survey linked below, which should take no longer than 2-3 minutes to complete. Responses will be submitted anonymously and can be completed via desktop or smart phone. The AIP Community Survey will be open for response until Wednesday, June 30, 2021. Your input is greatly appreciated!
https://wakullacountychamber.com/.../wakulla-county...
2021 Chamber Scholarship Award
Congratulations to Molly Maree Jones, recipient of the 2021 Wakulla Chamber Scholarship!

Molly has participated in school related activities for years and was involved in the National Honor Society, Student Government, Cheerleading, Weightlifting and Fellowship of Christian Athletes. Her extracurricular activities include Tropicana Public Speaking Contests, Optimist International Oratorical Contest, River of Life Youth Group, 2020 NRECA Youth Tour Delegate, 2020-21 Florida YLC Representative, and 2020 Girls State Delegate.

Molly is currently serving as Miss Wakulla.

Her community involvement includes Vacation Bible School Volunteer, Wakulla Senior Citizens Center Volunteer, Cheer Coach for local recreation park, Weightlifting Competition Judge and "Night to Shine", sponsored by Tim Tebow Foundation.
Molly is currently attending TCC obtaining her AA degree, and plans on obtaining a Bachelor's degree in Communication at FSU. Due to her interest in public speaking and leadership skills, and her desire to serve her community, she is considering attending law school followed by a career in entrepreneurship and/or political office.
So, look out, Molly is well on her path to success, and we wish her the best along the way!

Again, Congratulations to an impressive young lady!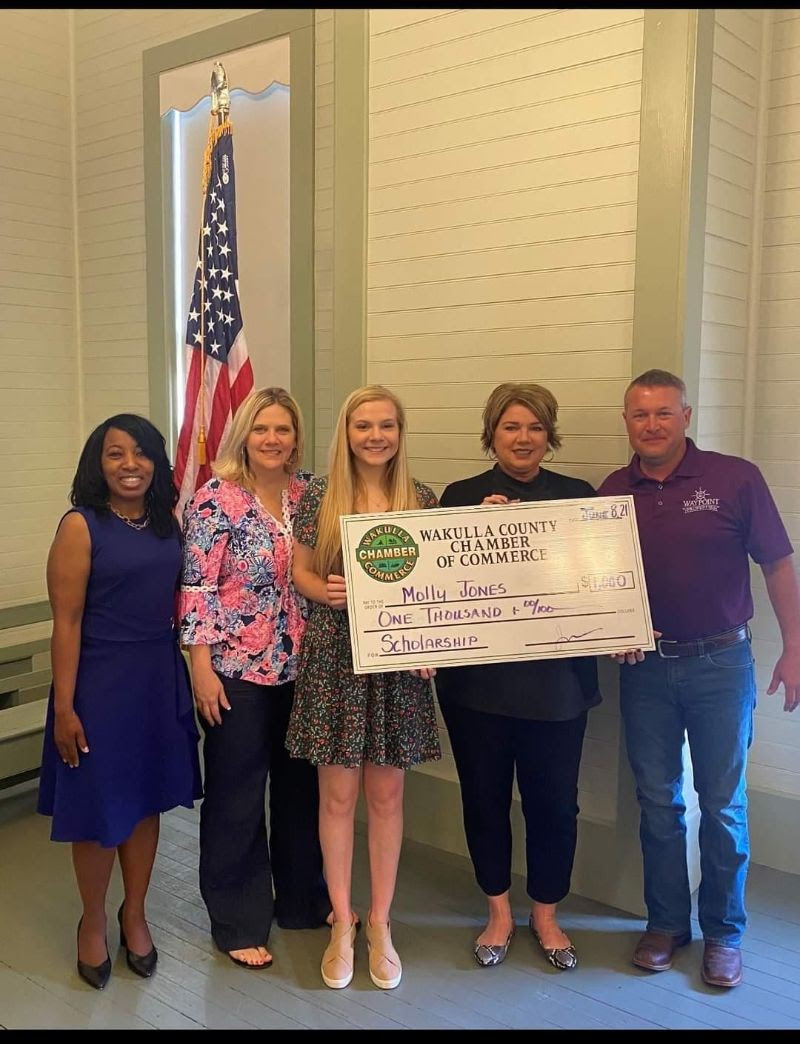 There are still a few tickets available.
Click here
to purchase
Notice of Public Meeting:
The Wakulla County Library Advisory Board is holding a Public Meeting on Monday, June 14, 2021 at 10:00a.m. at the Wakulla County Public Library, 4330 Crawfordville Hwy., Crawfordville, FL, (850) 926-7415.

Purpose of Meeting:
To advise and make recommendations to the BOCC in respect to all matters pertaining to the public library and their cultural activities including the existing library facilities and services, and the future needs; and in accordance with Ordinance #76-4.

Tuesday, June 15 at 4 Manchester Dr., Crawfordville
Business after Hours Networking
Thursday, June 17, 2021
5:30-7:30pm

Special pricing offered during event.
For catering purposes, RSVP to chamber office no later than Friday, June 11 by replying to this email
Networking Luncheon

Noon to 1pm, Wednesday, June 23 at Sherlock Springs, 2335 Bloxham Cutoff Road, catered by Kast Net

Menu: $ 15 per person - Bourbon Chicken, Fried Rice, Lo Mein, Salad, Egg Rolls, Dessert

RSVP to chamber office or reply to this email. Deadline is June 18 unless capacity is reached prior

Sopchoppy 4th of July Celebration and Line-up

For times and line up visit our events page
Rotary Club of Wakulla Meeting
Emergency Preparedness Information
Ed2go 2021 Class List

Ed2Go online training is made possible by the generous contributions from local businesses and individuals to the Burt Poole Scholarship fund, to help you succeed in business.Classes are free to our members. (other classes not listed here may be available with a co-pay). Please inquire with chamber staff to request more information, enrollment, and verification forms. Please also review requirements prior to sending enrollment request.
For a complete list of online classes click here
Disclaimer: The Wakulla County Chamber of Commerce provides this calendar of events as a service to its members and a convenience in the community. No endorsement of the scheduled events or organizations by the Wakulla County Chamber of Commerce is either expressed or implied.
Copyright © 2021 Wakulla County Chamber of Commerce, All rights reserved.
You are receiving this email because of your membership with the Wakulla County Chamber of Commerce

Our mailing address is:


Wakulla County Chamber of Commerce

PO Box 598/23 High Dr

Crawfordville, FL 32326
http://live.oysterradio.com/