Gulf Council's Ad Hoc Red Snapper Private Recreational
Advisory Panel to Meet
Meeting Notice
The Gulf of Mexico Fishery Management Council to Convene its Ad Hoc Red Snapper Private Angler Advisory Panel
The Gulf of Mexico Fishery Management Council will convene its Ad Hoc Red Snapper Private Angler Advisory Panel on
Monday, May 8, 2017
, from
8:30 a.m. to 5:00 p.m. CST
and on
Tuesday, May 9, 2017
, from
8:30 a.m. to 5:00 p.m.
The meeting will be held at the Double Tree, 300 Canal Street, New Orleans, LA 70130.
The Ad Hoc Red Snapper Private Angler Advisory Panel will review relevant background information to biology and management of red snapper in the Gulf of Mexico. The Panel will also discuss options to improve federal access for the private red snapper recreational fishery and make recommendations to the Gulf Council to be reviewed at their June 2017 meeting.
About the Gulf of Mexico Fishery Management Council
The Gulf of Mexico Fishery Management Council is one of eight regional Fishery Management Councils established by the Fishery Conservation and Management Act of 1976. The Council prepares fishery management plans, which are designed to manage fishery resources within the
200-mile limit of the Gulf of Mexico.
Submit comments and stay updated on fishery issues:
Check it out! Go to
www.gulfcouncil.org
and click on the thermometer in the middle
of the page. From there you can read up on all the pending actions, watch the video
presentations, read comments, and submit comments. All comments submitted through
the online form are automatically posted on our web site for Council review. Other
comments are manually posted every couple of days.
There is also a thermometer for each issue that lets you know where the Council is in
the process for that particular amendment, whether it's the scoping phase, final action,
or implementation.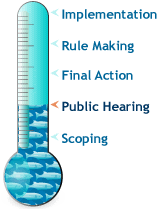 You can also find information on our Facebook page, blog, and YouTube channel.
The Gulf Council has an APP for that - Download it for free!
http://live.oysterradio.com/